The Top 5 Creative Things We're Seeing
DATE
11.09.20
CATEGORY
SHARE
In the era of remote work, the evolution of virtual production, activities, and even Halloween celebrations has taken the events industry into the digital universe.
Here are the top 5 innovative approaches to virtual living we saw in October.
1. Robotic Virtual Production
SOLO is a first of its kind robotic camera that captures cinematic-quality footage, with a fully remote team. It has a full suite of networked controls offering real-time operation with world class cinema camera, audio, lighting, and communications from anywhere in the world. What's impressive? There's no setup required. Talent and speakers simply open the lid and plug it in, then remote technicians take full control from there, leaving the technical stresses out of the hands of the presenters. The broadcast can be integrated directly into virtually any traditional broadcast or livestreamed directly into multiple platforms. Read more here.
2. Robotic Hand Written Messages
Speaking of robots, Handwrytten scales the power of handwritten notes through automation. Simply type your message on their website or app and see your message written with custom-designed handwriting robots that hold real pens to write out the notes in the handwriting style of your choice. Handwrytten can replicate your handwriting and schedule notes for future delivery, so you never miss a birthday or anniversary again.
Video from Handwrytten
3. Remote Activities for Fitness Fanatics
In addition to hard-to-find items like toilet paper and Clorox wipes during the lockdown, dumbbells have been an unexpected addition to the list for at-home workouts. Now, a hybrid approach to fitness has been trending and isn't slowing down as fitness fanatics turn to outdoor options to get their sweat on.
SoulCycle has brought their experience outdoors in select locations for classes 7 days a week.
Equinox created an outdoor club exclusively for their Los Angeles members and have recently opened their first-ever outdoor club in NYC, comprised of 15,000-square feet of strength and cardio equipment, turf, heated lamps, and on-site food and beverage. For a unique experience, Edge, the tallest outdoor observation deck in the Western Hemisphere has teamed up with Equinox gym to bring New Yorkers a fitness class 1,100 feet in the sky.
Stacked Yoga, a Black-owned and Brooklyn-based yoga studio, is hosting a range of outdoor yoga classes in NYC that emphasize inclusivity and diversity, and available to yogis of all skill levels. While some classes are in parks, Stacked launched a series called "Flow for Justice," which is held at the Black Lives Matter mural in Bedstuy.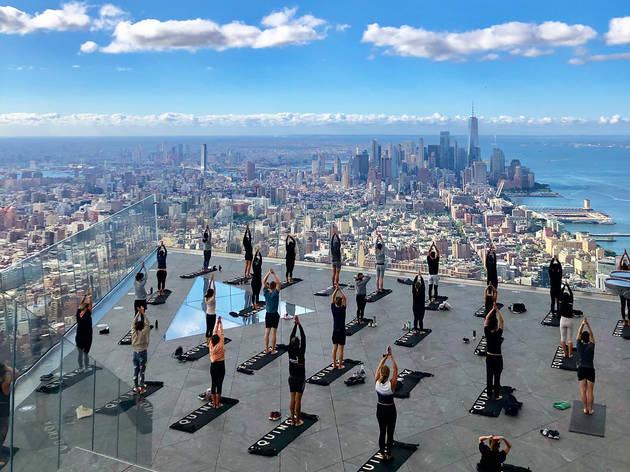 Photo from TimeOut
4. Virtual Gifting
Some activities and passions are accelerating amidst the ongoing pandemic, especially as many are more inclined to spend their time at home. Virtual events are starting to capitalize on these fads to create engaging experiences for remote attendees.
Biking experienced a super surge in popularity this summer, as many opted for this mode of transportation over shared public alternatives. Helping reignite technological passions while recognizing biker ridership and self-driving vehicles have increased, a new jacket was released by Philip Siwek that helps self-driving vehicles "see" cyclists on the road via a QR code signals.
Photo from Philip Siwek
Many remote attendees with children are hoping to offer some extra fun for their families via curated subscription boxes. The Just Like Me! Book Box directly tackles the lack of representation in children's literature while also promoting self-discovery, diversity, and family-based playtime. Each monthly box has a different theme and comes with 2-3 curated books featuring characters of color from award-winning authors, and the books advance as the child ages.
Millennials are notoriously plant-obsessed and now we're seeing virtual experiences centered around floral arranging and design, coming from lauded botanical institutions, five-star hotels, and brands alike. For a gifting idea, Fluora Plant has re-imagined the house plant with their LED light. controlled by a mobile app to navigate through colors, patterns, lighting speed, effects and more to create the ideal lighting environment. Their LED light can alsopromote a healthy circadian rhythm, helping you wake up and focus, as well as relax and sleep.
 Photo from Kickstarter
5. Halloween Virtual Experiences
Hulu brought in the season with Huluween, full of virtual experiences, drive-in activations, and premiere screenings. The drive-in event took over the Los Angles Equestrian Center in Griffith Park, as participants drove through a haunted forest to catch screenings of new horror movies as well as a mix of old classics. The opening and closing night welcomed a set from DJ D-Nice. The online counterpart is just as frightening with their website,  The Screamlands, Hulu's first-ever online haunted immersive experience. Visitors 18 years and older can travel through the immersive, 360-degree ride that features five scream-inducing rooms, which include spooky surprises behind every turn.
 Photo from Scott Clark Photo
Read a few FIRST case studies from clients who have engaged us for virtual events here.
Contact us here to learn more about how FIRST can help you deliver creative and engaging virtual events.
And join the dialogue about how you're using creative ideas to include remote attendees on our social platforms:
Facebook: https://www.facebook.com/FIRSTeventsagency/
Twitter: https://twitter.com/FIRST_events
Instagram: https://www.instagram.com/FIRST_events/
LinkedIn: https://www.linkedin.com/company/FIRST-events-agency